Sign up to receive updates from John Mortensen: tour schedule, book updates, new projects, skulduggery, tomfoolery…
We will not email you too much — about once or twice per month.
New Course: Introduction to Historic Improvisation
I'd like to let you know about something new I created over on Improv Planet. It's a 25-lesson introductory course covering the basics of historic improvisation, the 10 partimenti of Furno, and stylization in the form of figuration and simple diminution. Upon completion of the course, learners would be prepared to tackle additional challenges on their own, such as joining one of the Improv Planet tiers, playing easier partimenti on their own, and reading (and understanding!) the important books in the field.
While this course will be too basic for experienced improvisers (and most who have been members of Improv Planet for a while), it might be a good fit for any who want to understand how it all works before deciding if they want to dive in and really go for it.
Visit the new Improv Planet site at https://improvplanet.thinkific.com.
The Fugue Book is Done!
Yes. All 500 pages. Titled Improvising Fugue, it begins with a very deep study of partimento, imitation, and invertible counterpoint. Then it goes into techniques of improvising fugue, drawing upon a vast range of literature and the fugue d'école tradition of the Paris Conservatoire.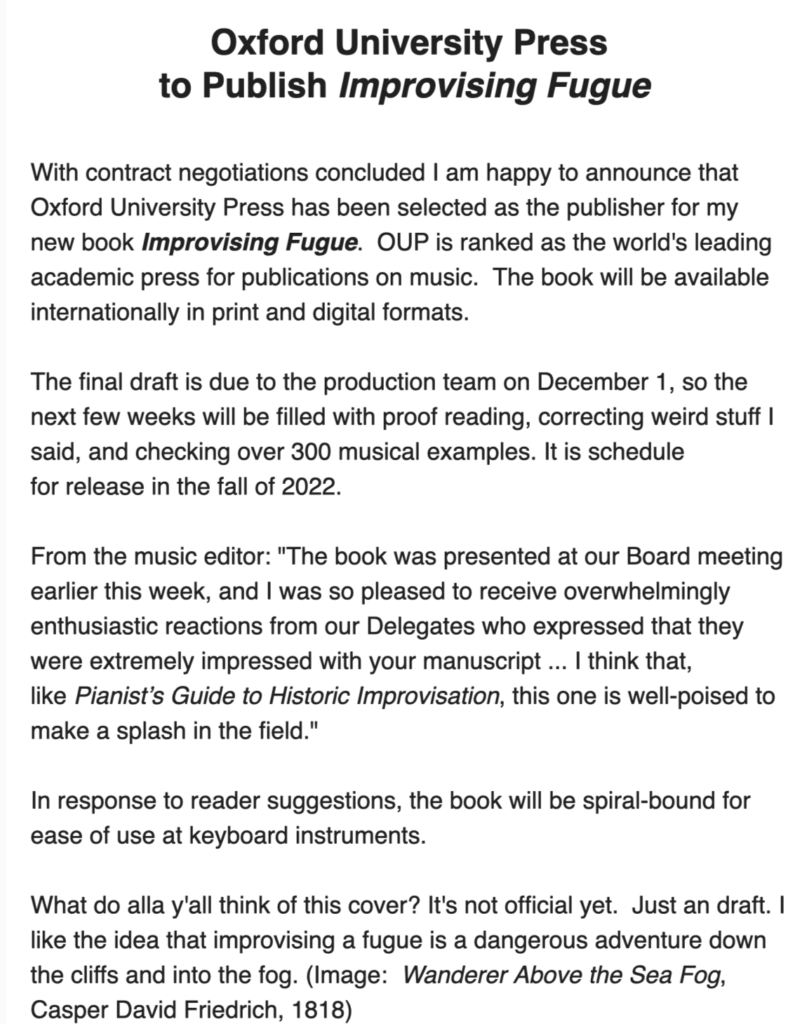 February 2022 Fulbright Residency at McGill University. This will be a month-long residency to teach, perform, and collaborate at the Schulich School of Music at McGill University in Montréal. I am grateful to the brilliant, world-class music faculty at McGill for this kind invitation, and to the US State Department's Fulbright program for sponsorship. Details to come.
Short radio feature on Cincinnati's WGUC.
Now released: A new album of live recordings. "Historic Improvisation Live" is a collection of sixteen improvisations recorded in concerts in Europe and America. This digital-only release is available on all major streaming and downloading services:
The Guardian/Observer published an interview with me recently. We discuss my book, the current state of historic improvisation, and music pedagogy in UK and USA.
Note Doctors Podcast. A show about music theory pedagogy.
New podcast interview on The Nikhil Hogan Show.
The Pianist's Guide to Historic Improvisation made its debut as the #1 New Release in both the Piano and Music Instruction categories on Amazon. It is currently the world's best-selling book in the field of historic keyboard improvisation, and serves as a course text at many leading conservatories.